Bijan Asef
Iranian Jews settled in Iran in the western, central and northern regions of Iran in 539 B.C..
Hamadan is almost in the west of Iran. The population of Jews used to be great in this city so much that the Bazaar was known as "the Jewish market".
The main reason for the presence of Jews in Hamadan is the "Esther and Mordecai" toms in the city, which historically has been a gathering point for many Jewish people.
In the past half century, the establishment of the Alliance school has affected the Hamadan Jewish Community culturally.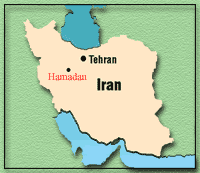 There used to be 5 Synagogues in this city that some have been dedicated to Moslems. Some fame doctors and artists of the Iranian Jewish community are from this city.