Elham Abai
Apr 2006
'Light up the Candle'
Iranian Jewish Group in Moscow
A group of 15-member Iranian Jewish women's took part in the "Light up a Candle" Jewish children's arts festival in Moscow, March 28, 2006.
Russian Jewish Community invited the Iranian group, headed by Elham Abaei, via I.R. Iran embassy in Moscow.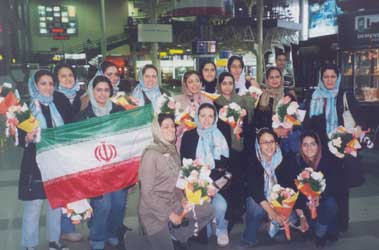 During a week, the group took part in some artistic programs of former Soviet Union countries' Jews, while holding Iranian songs and dance in some of those programs.
The trip was a rare group visits abroad by Iranian Jews, aged 14 to 30, and came to Russia thanks to diplomatic efforts by a Russian Jewish leader and with permission of the Iranian authorities.
There were so many questions of reporters about Iranian Jewish society and their living conditions, mostly answered by Elham Abaei.
On the last day of the Festival, the group participated in special ceremony of "Nowruz" (Iranian New Year) held by I.R. Iran embassy in Moscow.